Since its inception in 2005, Morpheus Lab has welcomed a large number and wide variety of visitors to our lab. We enjoy hosting visitors and demonstrating for them our passion for what we do. Some recent highlights are shown below.
Visitors 2009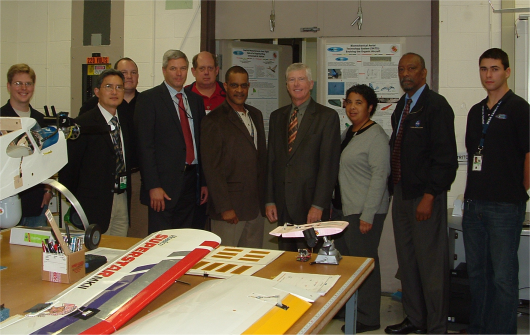 [Pictured Above] On Friday October 16, 2009, Morpheus Lab was pleased to welcome a distinguished visitor, Mr. John Miller, Director of the U.S. Army Research Lab (ARL). Dr. Mark Nixon, Director of the ARL Vehicle Technology Directorate (VTD), along with other ARL staff accompanied Mr. Miller. We were pleased to host this distinguished party for a tour of our facilities and discussions of our research objectives and progress. We enjoyed the technical discussions over a pizza lunch in the fabrication lab.
June 2009: Dr. Frances ("Fran") Kelly, former director of U.S. Navy Education Programs, tours Morpheus Lab after delivering her lecture on "The Implications of the Internet and E-Learning for Changes in American Society" at NIA, (lecture).


[Pictired Right]: Dr. Kelly (seated) with Morpheus Lab Researchers..


Visitors 2007 - 2008
[Pictured Above] On Tuesday, July 29, 2008, Morpheus was pleased to welcome Dr. Mark Bundy (2nd from right), a distinguished visitor from the U.S. Army Research Laboratory (ARL). Dr. Bundy, who is the University of Maryland POC for the new CTA/MAST project on microsystem mechanics, was treated to a full day visit. The visit began with a tour of NIA, and from there it was on to the lab for demos and discussions about our ongoing research efforts, followed by an ornithopter flight demonstration, lunch with the team, and a return to NIA for further discussions. We were honored to host a man with such a long and distinguished career in service to our country. We thank him for his time, enthusiasm, and encouragement.


Winter 2008, Morpheus Lab hosted Ms. Rachel Born, an award winning local high school student, and her father.


Dr. Hubbard describes our fixed wing

flight research to Rachel and her father.

Dr. Hubbard, Rachel, and Mr. Born

Dr. Hubbard describes our flapping

wing research to Rachel
Morpheus also recently hosted a visit by both the esteemed new Aerospace Department Chairman, Dr. Darryll Pines, and the honored previous Chairman, Dr. William Fourney.

[Pictured Right]: Robyn Harmon discusses her research with Dr. Fourney and Dr. Pines


On November 14, 2007, Morpheus Lab hosted Dr. Roger Hanlon, esteemed Marine Biologist from the Marine Biological Laboratory, to discuss applications of electroactive polymers to biologically inspired systems of active camouflage.



Dr. Hanlon showing Dr. Hubbard

some research highlights

Geoff Slipher shows Dr. Hanlon some

electroactive polymers in action

Dr. Hubbard and Dr. Hanlon discussing

research objectives and methodology
Last October 2007 Morpheus Lab was also honored to host Dr. Sung Lee of the University of Maryland's Aerospace Department. Dr. Lee, an expert in non-linear finite element modeling of structures, came to discuss research collaborations in modeling the complex fluid-structure interactions of flapping membrane wings and active electroactive polymer membranes. Some photo highlights of Dr. Lee's visit follow.



Dr. Sung Lee holding Trinity with

her track ball markers

Geoff Slipher, Dr. Lee, and Jared Grauer discuss the finer points of ornithopter flight

Dr. Hubbard with Dr. Lee
On Monday October 15th, 2007, the Morpheus Lab received a visit from Dr. Donald Fraser, former Deputy Undersecretary of Defense under Richard Cheney during the previous Bush Administration. Dr. Fraser is a member of the National Academy of Engineering, a former COO of Draper Labs and Director of the Boston University Photonics Center. He came here expressly on the invitation of the Morpheus Lab. Dr. Fraser spent the day touring NIA and Morpheus Lab and meeting with Morpheus Lab's graduate student researchers. Dr. Fraser piloted himself down for his visit to Morpheus Lab in his own private airplane, arriving and departing from Langley Air Force Base.


Dr. Fraser (center left) with members

of Morpheus Lab

Nelson Guerreiro discusses his

fixed-wing research with Dr. Fraser

David Billingsley discusses his 3D

imaging research with Dr. Fraser

Geoff Slipher discusses his electroactive

polymer research with Dr. Fraser
Morpheus Lab also recently hosted a visit by distinguished members of NASA Langley's Technical Challenges Committee to discuss our lab's research objectives and how we might collaborate more closely with NASA Langley on addressing some of the key technical challenges they have identified for the future.


Nelson Guerreiro discusses his fixed-wing

research with Langley's distinguished visitors

Dr. Hubbard and Jared Grauer discuss

research objectives and methodology

with the distinguished visitors